Welcome to our site.
WE'D LOVE TO MEET YOU IN PERSON!
In the meantime, explore our site. You will sense that Mayfair is a place where you can learn about an incredible God who loves you more than you know. And you'll see that Mayfair is a place you can grow to be more like His Son, Jesus Christ. See you Sunday!
THE KING'S BRASS

Join us Sunday August 14 @ 6pm for a concert from the very talented Tim Zimmerman and the King's Brass! This event is completely free, but there will be a free will offering at the end of the performance. We hope to see you there!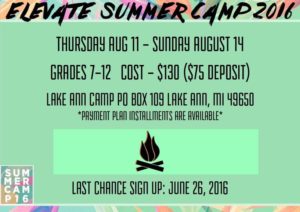 Elevate Summer Camp
Elevate Student Ministries Summer Camp is at Lake Ann. Grades 7 – 12.
Jul 20, 2016

(Matthew 12:15-23)

Jul 3, 2016

Childlike Humility & Faith

Jun 26, 2016

Jesus' Teaching on Divorce

Jun 19, 2016

A Love He Can Feel

Jun 5, 2016

The Biblical Design for Marriage & Family – Core Value #6

May 22, 2016

Little Children and the Kingdom – Part 2

May 15, 2016

Little Children and the Kingdom – Part 1

May 8, 2016

Treat Her with Respect

May 1, 2016

Tough Words, Temple Taxes and Tilapia

Apr 24, 2016

Mountain Moving Faith
Thank you for considering a gift to Mayfair Bible Church. Contributions are used in accordance with our Annual Budget under the oversight of the Board of Deacons. If you have additional questions regarding funds at Mayfair, or are considering an unusual donation, please contact us.
FOUR WAYS TO DONATE ELECTRONICALLY
Get the app. The EasyTithe app is available for iOS. After downloading it to your phone or tablet, select "Mayfair Bible Church". You can direct your giving to a specific category and track your recent giving history.
Text a donation. Send a gift of any amount to 810-346-1755. On the first visit you will fill out the necessary information to make a donation. On following visits you can simply text an amount to that same number.
Use your bank's bill pay feature. You can utilize your bank's bill pay service to send a one-time or recurring donation to Mayfair.
Use the online service by clicking the button below. You will be directed to a site that will collect the necessary information to process your donation. None of your banking information is shared with Mayfair Bible Church, it is securely stored by the processing company.
5339 W. PIERSON ROADFLUSHING, MI 4843