Welcome!
-WE'D LOVE TO MEET YOU IN PERSON-
In the meantime, explore our site. You will sense that Mayfair is a place where you can learn about an incredible God who loves you more than you know. And you'll see that Mayfair is a place you can grow to be more like His Son, Jesus Christ. See you Sunday!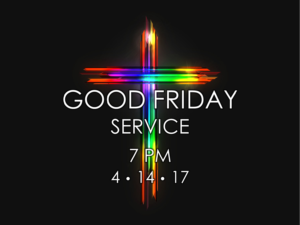 Join us on Good Friday as we use music, drama and a message to remember Christ's sacrifice for us on the cross.
Mar 26, 2017

"Here Comes the Bridegroom"

Mar 19, 2017

"God's Unexpected Grace"

Mar 12, 2017

"Because No One but the Father Knows…"

Mar 5, 2017

"The Sign of the Son of Man"

Feb 26, 2017

"The Time of Jacob's Trouble"

Feb 19, 2017

"The First Half"

Feb 12, 2017

"The Beginning of Birth Pains"

Feb 5, 2017

"The Rapture Happens Next"

Jan 29, 2017

"The Story of Redeeming Love"

Jan 22, 2017

"The Seven 'Woes' of Jesus"
Thank you for considering a gift to Mayfair Bible Church. Contributions are used in accordance with our Annual Budget under the oversight of the Board of Deacons. If you have additional questions regarding funds at Mayfair, or are considering an unusual donation, please contact us.
FOUR WAYS TO DONATE ELECTRONICALLY
Get the app. The EasyTithe app is available for iOS. After downloading it to your phone or tablet, select "Mayfair Bible Church". You can direct your giving to a specific category and track your recent giving history.
Text a donation. Send a gift of any amount to 810-346-1755. On the first visit you will fill out the necessary information to make a donation. On following visits you can simply text an amount to that same number.
Use your bank's bill pay feature. You can utilize your bank's bill pay service to send a one-time or recurring donation to Mayfair.
Use the online service by clicking the button below. You will be directed to a site that will collect the necessary information to process your donation. None of your banking information is shared with Mayfair Bible Church, it is securely stored by the processing company.
5339 W. PIERSON ROAD FLUSHING, MI 48433