Welcome!
-WE'D LOVE TO MEET YOU IN PERSON-
In the meantime, explore our site. You will sense that Mayfair is a place where you can learn about an incredible God who loves you more than you know. And you'll see that Mayfair is a place you can grow to be more like His Son, Jesus Christ. See you Sunday!
Stumped on what to do for Valentines day this year? Make this Valentine's Weekend with your spouse memorable by investing a little extra in your marriage! Join many other couples February 10-11, for a retreat that will help you grow and strengthen your marriage's identity and intimacy. Mayfair Bible is excited to have Brian and Jean Fast come lead this event all the way from upstate New York. They have been married 40 years and have been teaching on marriage and family life since 1983! The Couples Retreat
will be hosted here at Mayfair Bible Church and if you sign up before Jan 15, 2017, the cost is only $80 PER COUPLE! (The price will go to $95 per couple after Jan 15) The Fee includes meals, material, and
a gift book. We hope to see you there!
Dr. Brian & Jean Fast adhere to the "Statement of Faith"written by the National Association of Evangelicals. You can find out more at
ccahope.com
and
imaginlifecoaching.net.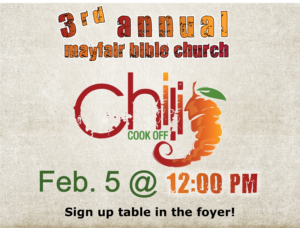 Please sign up in the Foyer whether you will be bringing chili or just attending. Admission is a non-perishable food item to be donated to the FCOC. A freewill donation will be collected to cover the cost of the event (suggested donation: $2 per person, $5 per family).
Jan 15, 2017

"Spiritual Leaders None Should Follow"

Jan 8, 2017

"Lessons on Choosing a Leader"

Jan 1, 2017

"Experiencing Harmony in the Church in 2017"

Dec 25, 2016

"A Call to Praise"

Dec 19, 2016

"A Call to Protect"

Dec 12, 2016

"A Call to Provide"

Dec 5, 2016

"The Call to Prepare"

Nov 28, 2016

"The Pre-Existing Conditions of Thankfulness"

Nov 21, 2016

"Trick Questions and Truthful Answers"

Nov 14, 2016

"The Stewardship of Giving – Core Value #10"
Thank you for considering a gift to Mayfair Bible Church. Contributions are used in accordance with our Annual Budget under the oversight of the Board of Deacons. If you have additional questions regarding funds at Mayfair, or are considering an unusual donation, please contact us.
FOUR WAYS TO DONATE ELECTRONICALLY
Get the app. The EasyTithe app is available for iOS. After downloading it to your phone or tablet, select "Mayfair Bible Church". You can direct your giving to a specific category and track your recent giving history.
Text a donation. Send a gift of any amount to 810-346-1755. On the first visit you will fill out the necessary information to make a donation. On following visits you can simply text an amount to that same number.
Use your bank's bill pay feature. You can utilize your bank's bill pay service to send a one-time or recurring donation to Mayfair.
Use the online service by clicking the button below. You will be directed to a site that will collect the necessary information to process your donation. None of your banking information is shared with Mayfair Bible Church, it is securely stored by the processing company.
5339 W. PIERSON ROAD FLUSHING, MI 48433