WELCOME!
-WE'D LOVE TO MEET YOU IN PERSON-
Worship Service: 10:45 AM
In the meantime, explore our site.
You will sense that Mayfair is a place where you can learn about an incredible God who loves you more than you know.
And you'll see that Mayfair is a place you can grow to be more like His Son, Jesus Christ.
See you Sunday!
SERMONS
Aug 12, 2018

When Do We Work? | Retooling Work: Genesis 2:1-3, Matthew 11:28-30

Aug 5, 2018

God's New Garden | Work as Mission | Guest Missionary

Jul 22, 2018

How Should We Work? | Retooling Work: Colossians 3:23-25; I Corinthians 10:31

Jul 15, 2018

Why Do We Work? | Retooling Work: Genesis 1:26-2:19, Ephesians 4:28

Jul 8, 2018

Gospel People Embrace Grace | FREE: Galatians 6:11-18

Jul 1, 2018

Gospel People Do Good | FREE: Galatians 6:6-10

Jun 24, 2018

Gospel People | FREE: Galatians 6:1-5

Jun 20, 2018

Gospel Fruit | FREE: Galatians 5:16-26

Jun 10, 2018

Set Free to Love | FREE: Galatians 5:1-15

Jun 3, 2018

Randy Hillebrand: Guest Missionary Speaker
Thank you for considering a gift to Mayfair Bible Church. Contributions are used in accordance with our Annual Budget under the oversight of the Board of Deacons. If you have additional questions regarding funds at Mayfair, or are considering an unusual donation, please contact us.
FOUR WAYS TO DONATE ELECTRONICALLY
Get the app. The EasyTithe app is available for iOS. After downloading it to your phone or tablet, select "Mayfair Bible Church". You can direct your giving to a specific category and track your recent giving history.
Text a donation. Send a gift of any amount to 810-346-1755. On the first visit you will fill out the necessary information to make a donation. On following visits you can simply text an amount to that same number.
Use your bank's bill pay feature. You can utilize your bank's bill pay service to send a one-time or recurring donation to Mayfair.
Use the online service by clicking the button below. You will be directed to a site that will collect the necessary information to process your donation. None of your banking information is shared with Mayfair Bible Church, it is securely stored by the processing company.
5339 W. PIERSON ROAD FLUSHING, MI 48433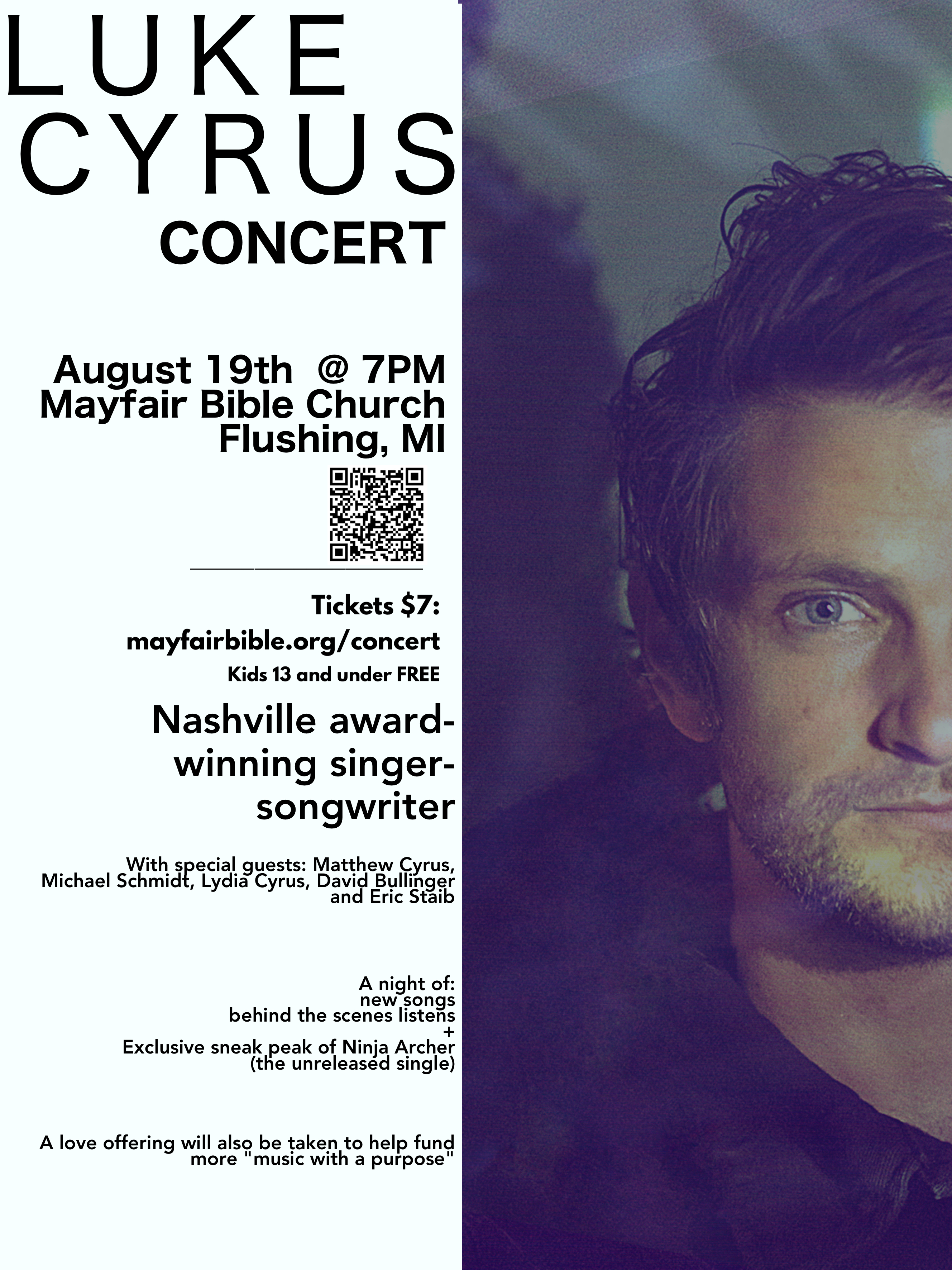 Luke Cyrus is a Nashville award-winning singer-songwriter with a deep passion for Christ's mission. Opening for the Rhett Walker Band, Francesca Battistelli, Remedy Drive, Luke has most recently been writing more original songs and leading worship at events and camps around the USA, such as Camp Barakel, South Church of Lansing, and CRU.