Mayfair Bible Church (MBC) is a 64,000 square foot building with a capacity for 825 people in the auditorium. The church is really the people and the spiritual connections we share. We meet across the street from Home Depot on Pierson Road. But it didn't start out that way...
OUR PAST
... MBC began in 1929 as the Gospel Lighthouse. The first building was actually a garage located in Flint's "Mayfair District". In 1945, the church was incorporated and expanded to accommodate a growing congregation. In 1979 a new building was erected on a 20 acre site in Flushing, just two miles west of the old location in Flint.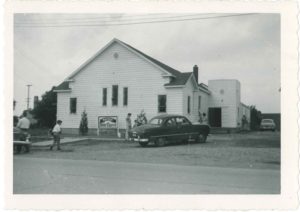 OUR PRESENT
... In 2007 we completed the newest addition which holds offices, classrooms, and a new auditorium. After nearly 20 years of creative space management and small additions, we gave ourselves some room to breathe... and grow!