We are a growing family of Christ-followers
serving on God's mission with His Gospel for His glory. God has blessed us with spacious facilities for worship and discipleship
–

a 64,000 square foot building with a capacity for 825 people in the auditorium. But the church is really the people and the spiritual connections we share. We meet across the street from Home Depot on Pierson Road. But it didn't start out that way…
… In 1929

a husband and wife began a little place of God's love in the City of Flint, called the Gospel Lighthouse, in what was then known as the Mayfair neighborhood. Their small gathering to help young children experience life in Jesus grew person-by-person and family-by-family into what is now known as Mayfair Bible Church.
…In 1945, the church was incorporated and expanded to accommodate a growing congregation.
… In 1979 a new building was erected on a 20 acre site in Flushing, just two miles west of the old location in Flint.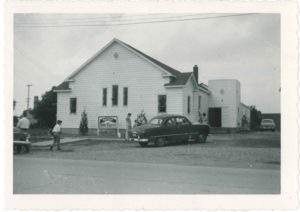 … In 2007 we completed the newest addition which holds offices, classrooms, and a new auditorium. After nearly 20 years of creative space management and small additions, we gave ourselves some room to breathe… and grow!
… In 2017 Pastor Dean Stewart began the process of retiring after 34 years of faithful service and
Pastor Michael Breznau
became our new Lead Pastor. We are deeply excited about reaching our community with the message and mercy of Jesus Christ in the years ahead!
Today, we are still all about the Good News in a community desperate for it. T
he epicenter of our mission remains where it all began: Flint and her surrounding communities.
God is creating good news stories all around us:
…Like a young man struggling through school but now serving in full-time mission work
…Like a woman rescued from sex-trafficking and now a baptized, growing member of Mayfair
…Like a retiree that lost direction now living with joy and purpose
…Like a former crack cocaine user and dealer now free and full of strength
…Like a man who was a homeless alcoholic now a leader among us
God is weaving an amazing story of good news and we invite you to join us on this journey of seeing our city and county transformed by Jesus.
We invite you to thrive… to come alive and flourish in God's grace and truth!